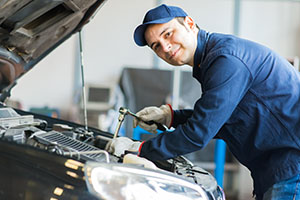 Your vehicle may experience many different transmission problems; especially if the vehicle does not receive regular maintenance from a certified transmission mechanic. Transmission problems can be expensive so prevention begins with regularly scheduled maintenance. During maintenance, each component of your transmission will be thoroughly inspected for wear and tear and the mechanic will ensure that your transmission is free of debris and dirt. Keeping your transmission functioning at optimum performance prevents expensive repairs down the line.
There can be many hidden issues discovered during preventative transmission maintenance which is why it is important to maintain the regular schedule suggested by the manufacturer. More often than not, there are transmission problems that do not show signs or symptoms such as strange sounds, shudders, shaking and vibration or slipping. These issues can be costly to repair if not given immediate and appropriate attention.
The transmission is one of the most important parts of any vehicle. It directs the power from the engine to the drive shaft which causes the wheels to turn and the car to move. So any problems can render the vehicle unsafe or unable. Following an effective preventive maintenance schedule for your transmission with a trusted transmission repair shop in Rock Hill, SC will keep your transmission performing better and lasting longer.
To find out more about preventive maintenance and transmission repair procedures, contact the certified transmission mechanics at Reliable Transmission Service & Auto Repair Service in Rock Hill, SC. keywords:
---