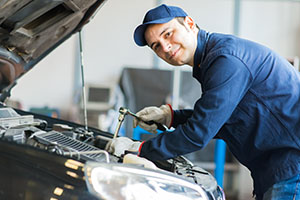 Equipping your vehicle with a rebuilt transmission in Rock Hill, SC can give you the same peace of mind as you would have with a brand new transmission, for far less money. In addition, rebuilt transmission also comes with a warranty.
Replacing a transmission is a big task, which is why you only want certified transmission mechanics to do the job. When your transmission is rebuilt, the entire transmission is disassembled and each part is checked for wear.
The parts that are worn or unreliable are replaced with new genuine parts before the transmission is reassembled making it as good as new. Rebuilding the transmission is a better option than a used one transmission, and is less expensive than an entirely new one. The quality of a rebuilt transmission is reliable when performed by an ATRA certified transmission mechanic. But for an extra layer of assurance, rebuilt transmissions come with a warranty when an ATRA certified mechanic does the job. If there is ever an issue with a rebuilt transmission in your vehicle within the warranty period, the repair services will be free.
To find out more about the many benefits of using a rebuilt transmission, contact Reliable Transmission Service & Auto Repair Service in Rock Hill, SC.
---